"Ask not what Your Community can do for You; Ask what YOU can do for Your Community." (Borrowed from JFK)
The Guild is composed of private individuals with like interests in preserving the cultural and structural heritage of Vicksburg and Warren County. Education of our citizens with the amazing history of the settlement over the past five centuries from the settlement of the Tunica Indians to present day is a prime goal. Physical restoration and preservation of our historical properties, cultures and characters from early Spanish, French, English settlements to remaining early humble houses to wealthy cotton broker's mansions will be an ongoing project. The work of the Guild and its members will be toward restoring Vicksburg to its former greatness and beauty and promote the visits of the world's citizens to the banks of the Mississippi to enjoy and marvel at the wonderful historic City of which we are fortunate citizens. This is a working Guild, as were the Middle Age craftsmen guilds. Members are expected to contribute their time, their labor, their knowledge, their resources to the cause of their Guild. All of Vicksburg will reap the rewards of this work and all will prosper.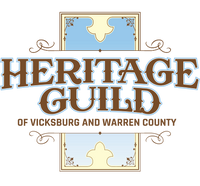 Vicksburg and Warren County have a unique abundance of natural beauty
and many interesting structures and areas of historical significance. We hope the work of our Guild will increase visitors and new residents to Our Community which will increase its prosperity and its historical significance and beauty.
Founding Members:
Joyce Clingan
Carolyn McMillin
Harley Caldwell
Dee Hyland
Dinah Lazor